Fri, 10 November 2017 at 3:22 pm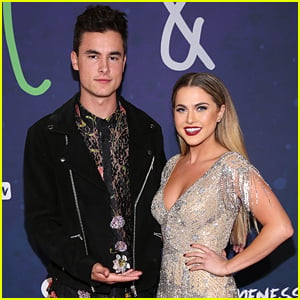 Kian Lawley and Anne Winters star as the title characters in AwesomenessTV's new series, Zac & Mia, available now go90.
Speaking with them earlier this week, JJJ got to learn that the actors did their research by visiting a children's hospital — but even that didn't prepare them for the emotions that they were about to face.
"We did a lot of research with the book and also did a lot of external research too," Kian shared. "We needed to nail these roles, we needed to do it justice."
Anne adds, "I think the biggest part was when we actually went to the Mattel Children's Hospital and met up with these young cancer patients and ask them everything we had questions about. From the moment they got diagnosed to how it is to leave a normal life behind. Everything we had questions on they answered."
There was one patient in particular that hit them extremely hard.
"There was this really young girl there and I think she was the youngest we met," Anne remembers. "She was in tears the entire time just telling her story to us and just hearing this 13-year-old girl who doesn't get to have that normal life, to talk about her cancer story in such a grown up way and still in a grown up way, that was one of the most hard-hitting things to hear.
"She was there with her dad and you could tell how hard it was," Kian chimes in. "She was so vulnerable at such a young age that she didn't know this was coming her way and then, took it like a champ and was able to open up and talk about it regardless of her crying and her feelings."
"It was sad seeing her talk about it front of her dad. Not only does she have to go through it, but he was going through it with her and it was sad to see it happen at such a young age."
While Anne and Kian's visit to the hospital helped, there were even more emotions they weren't prepared for while filming.
"Our visit to the hospital helped with the emotions we went through," Kian says. "We got a good judgement on what you think you're going to go through, but it ultimately comes down to what you're feeling on set at that time too. I think those emotions came out more than we thought. They just poured out like Niagara Falls.
Anne adds, "It's exactly like Niagara Falls. The main thing is that you really can't prepare for anything that happens on set. You can do as much research that you can and want, but at the end of the day, when you get on set and you're acting with another person there beside you, there are so many different things that happen."
You can stream Zac & Mia for free on Verizon's go90 app or watch on go90.com. There are new episodes are released every Tuesday and Thursday.
Like Just Jared Jr. on FB