Wed, 15 November 2017 at 11:34 am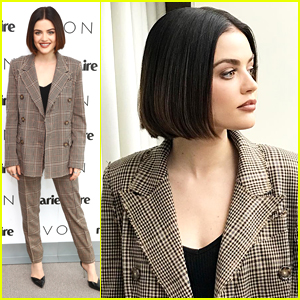 Lucy Hale is all business in her chic suit at Marie Claire & Avon's #BeautyBoss Luncheon held at The Hearst Tower in New York City earlier this week.
The Life Sentence actress joined Marie Claire's Jessica Pels and Avon reps Ivanna Diaz-Hansen, Donna Reid-Mitchell and Lydia Osolinsky for the panel event.
During the panel, Lucy and the Avon reps opened up about breaking boundaries, empowering female entrepreneurship and inspiring the next generation of trailblazers.
"I'm thrilled to have this opportunity to be surrounded by passionate, ambitious Avon Beauty Bosses who are defining success on their own terms," Lucy shared just before the panel.
"I hope our dialogue will inspire other women to take action in their own lives to blaze their own trail and reach higher than they think is possible."
Lucy is also pictured below arriving back in Vancouver to continue filming on her new CW series.
FYI: Lucy is wearing a Rails sweater. She is wearing a W. Britt ring at the luncheon.
Like Just Jared Jr. on FB