Fri, 17 November 2017 at 1:15 pm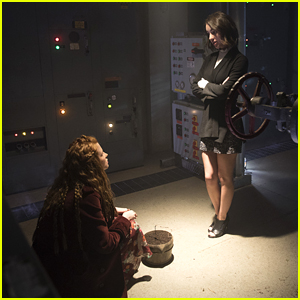 If you've been paying attention to Once Upon a Time like we have (we just can't help it), you know that Drizella has some sort of deal with The Witch who's locked up on the top level of Belfrey Tower — and their relationship is just weird.
You never know who's playing who — which is exactly Adelaide Kane's point, which she shared with EW about the duo's deal.
"I think that the witch is a very volatile entity," Adelaide shared. "I think it remains to be seen as to who's using who in this scenario, like whether Drizella/Ivy is just sort of misguided and desperate and looking for a mother figure, whatever her plots are, wherever she can find it, or whether she truly is a mastermind type character, or whether she's just a pawn in somebody else's game."
She continues, "We'll continue to develop that story line and see where that's going and what kind of part she has to play in this whole curse."
Adelaide says that beyond Drizella and The Witch, "we get to explore more characters and their backstory, and get to see how far they've come, and what's been going on for them between the time jump from the end of season 6 and now, the beginning of this whole new story and this whole new curse."
"Naturally things will get far more complicated as we continue on. There's going to be all this good stuff coming up. It's exciting. Some really, really juicy bits that I can't tell you about because I'll get in trouble."
Once Upon a Time will air two episodes TONIGHT @ 8PM – 10PM ET/PT on ABC.
Like Just Jared Jr. on FB