Fri, 17 November 2017 at 11:50 am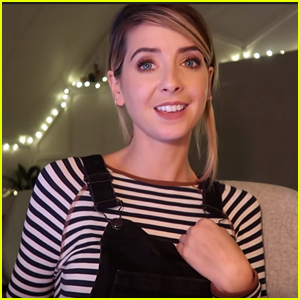 Earlier this week, Zoella was caught in between two uproars from fans over the pricing of her new lifestyle holiday advent calendar, which led to some digging out old derogatory tweets to use against her.
Now, the British digital creator is explaining herself in her new vlog.
At the end of her newest video, Zoella added a bit to explain to her fans about how the pricing on her products isn't something that she decides and how sorry she is for the anger some have felt.
"There has been some upset and disappointed people in the lifestyle advent calendar. More specifically, the price of it," she starts. "I didn't want to not address it, because I want you guys to know that I do care about how you feel about things and the last thing I want to do is anger, upset or disappoint anyone. That is not my intention."
Zoella continues, "The calendar is something that I've worked on for over a year. I love the product and am all about the creativity. I'm all about getting it from a design to a product and that's where my input ends. Once that product is done and I'm happy with it, the retailer can decide how much they sell that for. That's completely out of my decision making."
"It makes me so sad that this product that I love and worked hard on…and loads of you liked the product…just having that price on it that was out of my decision, has left so many people so upset and I feel just as let down by this."
Watch her full video below:
Like Just Jared Jr. on FB