Mon, 20 November 2017 at 1:58 pm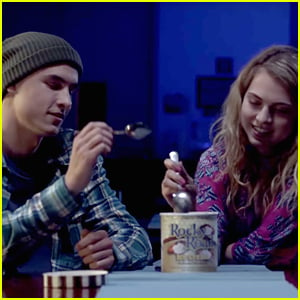 There are two new episodes of go90′s Zac & Mia coming up this week and JJJ has the exclusive scoop from Kian Lawley and Anne Winters on just how much they related to their characters.
For Anne it was an emotional connection.
"If I found out something like that intense about having cancer, I might actually do the same thing she did and really try and deny it," Anne tells us. "She's this normal girl, in high school…I think the vanity and the realization that you are in a position where you are vulnerable where you can't do things alone is a thing I would battle with."
For Kian, it was more about the family on screen.
"With Zac, he's very family oriented and they come and visit him and that is his main source of support and comfortability," Kian shared. "That's how I relate to him the closest."
Kian also admits that he'd be exactly like Zac in how he approached his cancer diagnosis.
"He got to be really statistical about all of his cancer and was well aware of what he was going through," he shared. "He had all these odds and numbers and I think I would do the same to see my chances of survival, just to make myself more comfortable in knowledge."
In tomorrow's episode, "Thera-Flu", Zac suffers the unfortunate consequences of his recent impulsive decision, and Mia opens up to a new confidante.
You can stream Zac & Mia for free on Verizon's go90 app or watch on go90.com. There are new episodes are released every Tuesday and Thursday.
Like Just Jared Jr. on FB