Thu, 23 November 2017 at 5:30 pm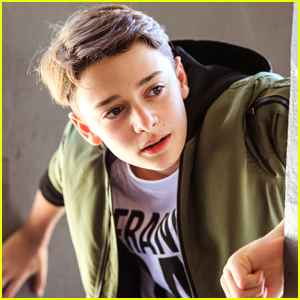 There are some really cute audition stories out here — but Stranger Things' Noah Schnapp's has to the best one.
Speaking with NKD magazine in their November issue, the actor who plays Will Byers on the show, revealed that he was actually at camp when he learned he got the part.
"I go to camp every summer for seven weeks and it's like sleepaway camp," Noah explains. "You have three phone calls every summer with your parents and I was on my last phone call. And this was some audition blurred with all the other auditions I did, so I didn't remember what it was, but I remember them calling me."
He adds that the project was as originally called Montauk, and he auditioned for the role of Mike.
"They called me and they were like, 'Hey, Noah!' and I was like, 'Who's this?' and they said, 'Oh, you got the role of Will Byers on Montauk!' and then they explained the whole thing and I was like, 'Oh my God!' and I was so excited and things have just been going from there."
Noah also adds that the unique storyline truly pulled him in from the start.
"It was just very different from things I've seen," he says. "I've never seen any story like that, where a kid goes missing and there's monsters, but there's a girl with powers who comes in and saves them."
He adds, "I thought it would be really cool to play a role where I go missing and people look for me and I'm in this other world."
Stranger Things is streaming now on Netflix.
Like Just Jared Jr. on FB