Sat, 25 November 2017 at 11:37 am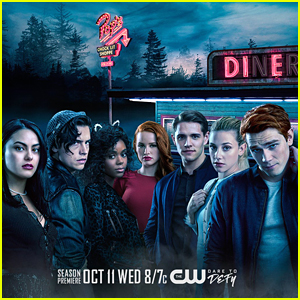 If you've started season two of Riverdale, you know about jingle-jangle, the party drug served in straws resembling Pixy Stix.
The effect is an energetic, euphoric high – and laughter at hearing the silly name said aloud.
"Can you imagine having to say 'jingle-jangle' on screen over and over again?" Cole Sprouse (Jughead) told TVLine. "I think we didn't stop laughing for the first four episodes."
"My reaction was 'Jingle-jangle? Jingle-jangle?' Alright," Marisol Nichols (Veronica's mom Hermione) added.
Cole remembers asking showrunner Roberto Aguirre-Sacasa what the name meant. "He sent us… this classic, twisty, '70s, drug-trippy 'Jingle Jangle' song, and then it all made sense," Cole shared.
In the comic books, "Jingle Jangle" is the title of a psychedelic 1969 song and album from the pop group the Archies. (You can listen to it here.)
Even Archie indulges, in the scene where Veronica's friend Nick St. Clair offers jingle-jangle around at a party. "That was a really fun scene to shoot, just because we were all goofy and we had music playing," Casey Cott (Kevin) said.
Like Just Jared Jr. on FB