Mon, 27 November 2017 at 3:13 pm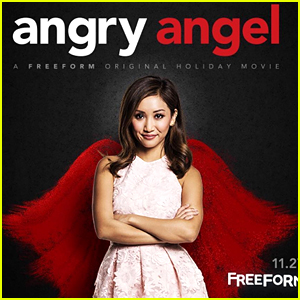 Brenda Song is in the middle of two love triangles in her new holiday movie, Angry Angel.
Speaking with Hollywood Life, the actress opened up about the television movie premiering tonight, and it seems she's caught in the middle of it all.
"There's like a huge venn diagram when it comes to all the love connections in Angry Angel, because as Megan, she was married to Patrick, [and] she runs into him and she sees that he's moved on with Jill, whom she automatically dislikes because, duh, Jill's awesome," Brenda shared. "It's worse when you find someone that you care about with someone who's actually awesome."
On top of her old life as Megan, Brenda is also Allison Pyke and as her, "she has started dating this guy named Barker, who is wonderful and wants to take the next step, but because she's always lived in this mindset of, 'I'm ready to go to heaven. I'm out of here. I'm out of here,' she doesn't commit to any of her friends or family or Barker."
"I think ultimately what it comes down to is she's split in two. She does care about Barker, but she's still in love with Patrick," she adds. "But she no longer lives that life, she's not Megan anymore. But she hasn't fully stepped into being Pyke, so it's a very, very messy triangle, venn diagram."
Angry Angel airs TONIGHT @ 8PM ET/PT on Freeform.
Like Just Jared Jr. on FB