Thu, 30 November 2017 at 11:26 am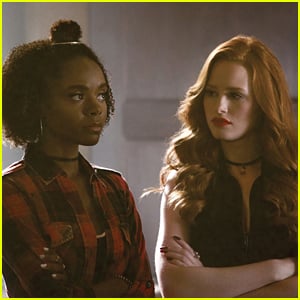 SPOILERS AHEAD!
The truth is out on Riverdale — Cheryl IS Josie's secret admirer!
After a string of kind of cryptic presents and some pretty creepy love notes — something that Josie thought Chuck Clayton was sending to her — it was revealed that Cheryl was the one with the crush on Josie. But we're still not certain that she's the one sending those gifts…
Madelaine Petsch opened up to ET about the surprising pairing on the show, saying that "Josie is the only real ally that Cheryl has in this school and the only person that Cheryl is willing to open up to even the littlest bit. She hasn't really opened up to her too much, but they create a really beautiful friendship in the beginning of the season."
"And then chaos happens," she adds.
While Josie doesn't know the identity of her admirer, Ashleigh Murray does love working with Madelaine on camera.
"She's just such a ray of sunshine to be around, so being able to play with her as Josie and Cheryl [is great.] We had a really lovely moment in one of the episodes that's coming up that I really enjoyed and we got to walk up and down the hallways together and just laughing and joking about things together in between takes. I just have the best time with her."
We'll have to wait and see if Cheryl and Josie's relationship will turn into something else though.
Like Just Jared Jr. on FB