Wed, 06 December 2017 at 4:21 pm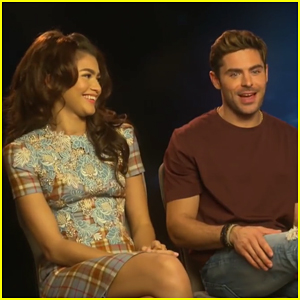 Zac Efron called his on-screen kiss with Zendaya in The Greatest Showman his absolute favorite — "ever"!
In a new interview during the movie's London press junket today, the two actors opened up about their characters in the upcoming musical movie and how fast they bonded on set.
When the reporter, who got his hair cutely fixed by Zendaya at the start, asked about the kiss between Anne and Phillip, Zac was quick to point out that it was his favorite kiss he's done on screen.
"You're in the moment! When you're into a character, the whole time they're not allowed to as much as touch, talk, speak, have a moment between each other so every moment, even if they're just touching is incredibly special. It's not just another kiss. It's different," Zendaya says. "We try to take ourselves out of it and become these two characters and that's their moment."
Zac added that "this might be my favorite kiss, I think ever."
"Just because at this point for these characters, it's so built up, the tension between them is so strong and literally, just a glance between them is electric," he says. "When they finally have the courage in that moment to finally connect and get that kiss, it's that epic musical moment."
The Greatest Showman hits theaters this month.
Like Just Jared Jr. on FB