Thu, 07 December 2017 at 5:25 pm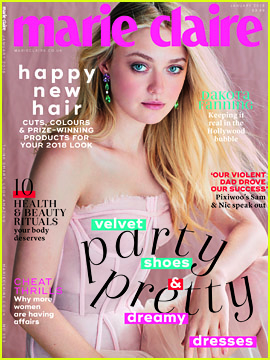 Dakota Fanning looks stunning on the cover of Marie Claire's January 2018 issue, which is out on Friday (December 8).
Here's what the 23-year-old actress had to say:
On going off the rails: "It always cracks me up when people talk about how I haven't gone off the rails – which I have not, by any means – but you know, I'm a normal person. I love a party and I love having people over for any occasion since I've had my own apartment in New York. I'm always like, 'You can stay with me!' I don't cook, but I make cocktails. I make a good margarita."
On being 'just' being an actor: "I do have moments where I feel like nowadays being just an actor isn't enough. I was listening to Anna Faris Is Unqualified, which I love, and I was like, [in a paranoid whisper] 'She's an actor. Now she has a podcast… am I supposed to get a podcast?!' It used to be that if you were an actor and you did certain things, it was cheesy, but things are changing so much. I like that the lines are blurred and you're allowed to do those things. I just don't know if I have anything I would feel authentic doing yet, because we can tell when it's not real, right? When somebody doesn't actually believe in what they're doing?"
On equality: "Seeing my mom be a stay-at-home mom, I saw the strength in that; in choosing to dedicate her life to being the best mom… I remember promoting The Runaways and being asked, "Have you ever been told you couldn't do something because you were a girl?" And I was like, 'No, I haven't' and I realised that in growing up with very strong women, I [always had] the feeling there was nothing I couldn't do."
For more from Dakota, head to MarieClaire.co.uk.
Like Just Jared Jr. on FB
Credit: David Roemer; Photos: Marie Claire UK
Posted to:
Dakota Fanning