Thu, 07 December 2017 at 12:40 pm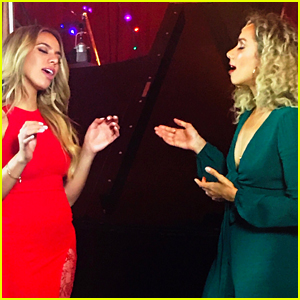 Dinah Jane just dropped the ultimate surprise for her fans — a special Christmas duet with Leona Lewis!
The Fifth Harmony singer explained how the collab came to be in a series of tweets.
"As a little girl, I've always looked up to empowering female vocal artists such as Mariah Carey, Whitney Houston, Carrie Underwood, Beyoncé, & Leona Lewis. At the age of 11 is when I took my love & interest for singing a bit more serious. Around this time, I was sleeping over at my cousin's house and they had asked me to sing them a song just for fun," she starts out.
"I had chosen 'Yesterday' by Leona Lewis. This became my first ever cover on YouTube titled 'Tongan Girl Singing'. I've always hoped to one day sing with Ms. Lewis."
Dinah continues, "Fast forward 8 yrs later, I'm not singing a christmas cover with just anyone, I'm actually singing WITH LEONA LEWIS! What a humbling experience this is for me I tell you. I'm so grateful for those of you who have followed me throughout my journey & to those who made this dream collab come to life!"
"I was just scrolling through Twitter one day and I came across a tweet saying 'Dinah & Leona need to do a song together and Leona had faved it! I was freaking out to my mom like, 'WHAT DOES THIS MEAN MOM !?! Is this a Green Light !? OH MYGAHHH!'"
"The little 11 yr old me in me is totally fangirling at this point ! This is the best Christmas gift I've ever received!
"Thank you to the fans & thank you Ms.Lewis for making my dreams come true! With that being said, enjoy this special medley we created for you guys this Christmas!"
Listen to their medley below now!
Like Just Jared Jr. on FB