Fri, 05 January 2018 at 6:40 pm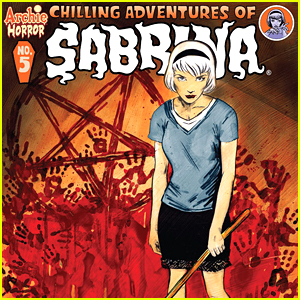 Earlier today, Chilling Adventures of Sabrina not only announced who would be playing the title character, but also revealed additional characters for the Netflix show.
According to ScreenRant, the upcoming thriller series is looking to cast Harvey and Rosalind, Sabrina's boyfriend and best friend, as well as a new character, teacher Mary Wardwell.
Harvey is described as "the Prince Charming of this dark fairy tale" and "politically minded, idiosyncratic, attractive, charismatic, and fun; handsome and romantic, Harvey's also smart, woke, and compassionate. In the present-day, he is part of Greendale's counter-culture youth. He has no idea that he is descendant from a long line of witchhunters."
Check out the two other character descriptions below!
Female, legal 18 or 18+ to play 16, African American. Rosalind is Sabrina's human best friend. Brash, empowered, and outspoken like her Black Panther parents, Rosalind is keeping a secret from Sabrina and the rest of her classmates—that she is not-so-slowly losing her eyesight, a fact that will put her immortal soul in jeopardy
Female, 30s, Diverse. A mousy teacher at Baxter High, Ms. Wardwell is a smart, quirky mentor to Sabrina. However, her persona quickly gets taken over by Madam Satan at the start of the pilot, and she becomes a sultry, cunning manipulator. Essentially the Devil's Handmaiden, Wardwell's "lessons" are designed to corrupt Sabrina per the Devil's agenda
Chilling Adventures of Sabrina has been greenlit for two seasons on Netflix.
Like Just Jared Jr. on FB