Mon, 15 January 2018 at 3:30 pm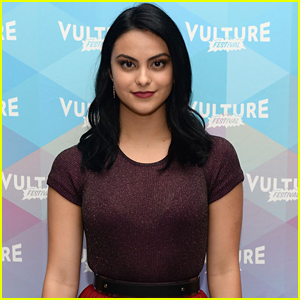 It may only be January, but it's never too early to start thinking about prom.
Riverdale star Camila Mendes recently teamed up with JCPenney to style the 2018 campaign and during the shoot, revealed what her own prom dress looked like.
She also opened up about having a budget to deal with — something that her fans can definitely relate to.
Who actually wants to pay a lot of money for one dress that you're only going to wear once?
"It's funny – I spent three hours at a department store and wasn't finding anything; these dresses were really expensive and I didn't find anything I liked for the price I would pay, so I ended up not getting anything," Camila remembers about her search for the perfect dress. "I was with my mom and we were so frustrated."
Instead of staying there, she thought outside the box — and went vintage shopping.
She continues, "Then the next weekend I went out with my friends and we were at a thrift store and I came across this really cute, black, kind of old-Hollywood vintage dress and it was so cheap (definitely under $100; I think it was honestly $50 or something). And I put it on and it fit me like a glove."
Camila adds that her perfect dress was "just a simple black dress with an open back and it had fake diamonds outlining the back."
"It was really glamorous and I had my hair all old Hollywood-like and I was like, Oh my God. I kind of cheated prom because I went to a thrift store and found my dream dress."
TELL JJJ: What does your dream prom dress look like? How much will you spend on it?
Like Just Jared Jr. on FB