Mon, 22 January 2018 at 3:00 pm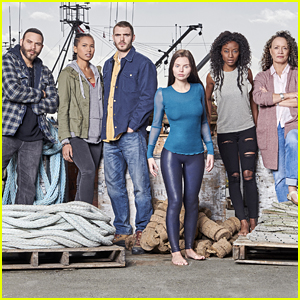 We were all introduced to Alex Roe when he starred in The Fifth Wave movie with Chloe Moretz, and now, we'll get to see him on our television screens in Freeform's upcoming mermaid thriller drama, Siren.
Speaking with Collider, the British-born actor revealed that he's the type of actor who loves to do his own stunts, and sometimes those have him in really, really cold water.
"We're shooting in Canada, so the water there, during the winter, is really, really cold," Alex explained. "I've had to jump in the water a few times, and they have a stunt double ready, but I'm always like, 'No, it's gonna be me. I'm gonna do it.'"
"It's actually really refreshing to jump into really cold water," he added. "I'm lucky that people rush over to me with towels."
Alex also revealed that a lot of the scenes in Siren will be underwater.
"During the season, there's actually quite a lot of underwater stuff, which is exciting," he shared. "I've learned how to hold my breath for four and a half minutes for this. I'm really proud of that fact."
Siren will premiere on Thursday, March 29th on Freeform.
Like Just Jared Jr. on FB