Thu, 01 February 2018 at 4:31 pm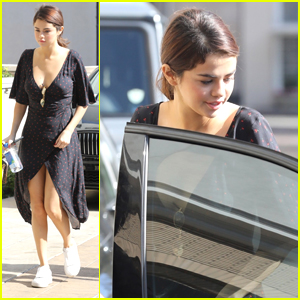 Selena Gomez battles the warm weather with a super cute summer dress in Los Angeles on Thursday afternoon (February 1).
The "Bad Liar" singer met up with a friend for some retail therapy.
In his new interview with Billboard, Charlie Puth confirmed that something did indeed happen between him and Selena back in 2016, however, it was very short-lived.
["It was] very small, but very impactful. And it really messed me up," Charlie confessed while speaking about his and Selena's collaboration "We Don't Talk Anymore".
He added, "It's about a particular moment in my life, when someone very close to me wanted the attention of somebody else. When I found that out and we ended it, I might have done some shady things too, and she might have asked me, 'How long has this been going on?'"
"I'm trying to put this the best way possible: It wasn't like I was the only person on her mind. And I think I knew that going in–what I was getting myself into," Charlie says.
However their short-lived relationship won't stop him from still performing the track.
"She evoked such good emotion on that song, it was a pleasure working with her. That's why I'm always happy to sing it, even though it came from a dark point in my life."
Like Just Jared Jr. on FB