Fri, 02 February 2018 at 7:45 pm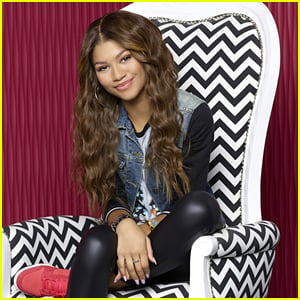 We're taking a look back at K.C. Undercover as the series ends tonight on Disney Channel — and looking even more at everything star and executive producer Zendaya has said about the show.
When the series first premiered on January 18th, 2015, the actress wanted to have a character who wasn't the typical Disney teen.
"There's not many girls on television who get to kick butt but are also educated and strong," Zendaya shared with Galore mag in 2015. "I feel like K.C. is just a good role model for boys [as she is for] girls."
"It's not gender specific — it's for everyone to watch."
But she wasn't only in front of the screen — she was also an executive producer and she was excited for the role.
"I would say the fact that I am able to have creative input is really cool and I'm able to have fun and just explore what my vision is," she shared in another interview.
She added, "If I have an idea for the show or anything that I feel I want to create then I have the space and the place to do that. It's awesome."
Zendaya also opened up to several other publications about returning to Disney Channel and having more diversity, and power on the series.
"The only way I was going to come back to the Disney Channel was if I was in a position of more power," she shared with Cosmopolitan in 2016. "One thing that is really important to me is diversity on the channel. It's hard as a young person of a different ethnicity or background to look at the TV and not see anyone who looks like you. Representation is very important."
And let's not forget about Zendaya getting the network to change almost all of the original concept for the show.
"I wanted to make sure that she wasn't good at singing or acting or dancing," Zendaya said of K.C. to Vogue in 2017. "That she wasn't artistically inclined. I didn't want them to all of a sudden be like, 'Oh, yeah, and then she sings this episode!' No. She can't dance; she can't sing. She can't do that stuff. There are other things that a girl can be."
"I want her to be martial arts-trained. I want her to be able to do everything that a guy can do," Zendaya added. "I want her to be just as smart as everybody else. I want her to be a brainiac. I want her to be able to think on her feet.
"But I also want her to be socially awkward, not a cool kid. I want her to be normal with an extraordinary life."
K.C. Undercover will conclude with an hour-long episode TONIGHT @ 9PM ET/PT on Disney Channel.
Like Just Jared Jr. on FB