Wed, 07 February 2018 at 6:20 pm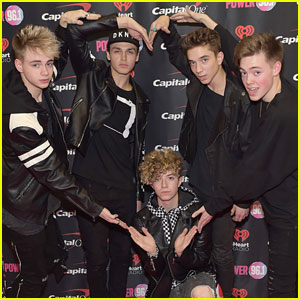 Why Don't We just released their new song "Trust Fund Baby" last week, and they're opening up about working with Ed Sheeran, who penned the track.
The guys – Jonah Marais, Corbyn Besson, Daniel Seavey, Jack Avery, and Zach Herron – chatted with MTV about the song, and what it was like working with Ed.
"This song, I think this is probably the song we're all most proud of just because of who it's with and everything," Daniel said.
Jonah added, "Ed Sheeran is a god."
"Super humble. I heard everybody say that about him, but you know, you're never too sure until you meet the people," Corbyn chimed in. "When we met him, very nice, very genuine, super happy for you guys."
"When you're talking to him, it's like you're talking to another guy but then he's this genius," Daniel said. "Seeing how passionate he is, with all his success, he could right now be like, 'I'm done' and be good for the rest of his life, but it's not about being good for the rest of his life. It's about the music."
"It's also fascinating how in the moment with the music he is. In this industry, everyone is pulling you in separate ways, and he was just very right there when you're talking to him," Jonah concluded.
Like Just Jared Jr. on FB