Thu, 08 February 2018 at 4:37 pm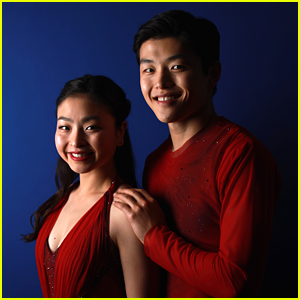 One of the biggest events at the Winter Olympics is figure skating and if you're like us, are amazed at what all the athletes can do on the ice.
What we're even more impressed by? How Ice Dancers and siblings Alex and Maia Shibutani make it look so easy!
If you follow Alex and Maia on social media at all (if you're not, why not?!), you know how much training goes into their sport and how they're possibly the coolest siblings around.
But, what don't you know about them? That's what JJJ's here for.
Before they left for Korea, Alex and Maia sat down with us to dish out some fun facts about themselves that will make you root for them even more.
Like, Alex is a HUGE Boston sports fan. He was actually born there and roots for all the teams — Celtics, Bruins, Red Sox, and Patriots. When he has free time, he always tries to watch games on TV, too.
Alex and Maia also love going to the movies, it helps them unwind after a full day of being on the ice.
What kinds of movies, you ask? Well, Maia loves Marvel movies and Alex loves Star Wars. They always try to go to the movie theater within the first week to avoid hearing spoilers. LOL!
Click inside to learn more about Alex & Maia Shibutani now!
Here are 5 more facts about the ice dancing team:
They also like acting: Maia and Alex appeared on an episode of the Nickelodeon show, "Nicky, Ricky, Dicky & Dawn" as themselves. It was their first time on a real set, and they had so much fun learning from the actors and crew.
They have 2 dogs: They have 2 Maltese named Lily and Po. They love spending time with them after long days of training. Lily and Po even have their own Instagram account – @lilyandpo.
They love food: Maia and Alex love food and trying new things! They use #ShibSibsSuggest on Instagram to share their favorite eats and restaurants from their travels.
Alex collects sneakers backpacks hats: Alex loves sneakers, backpacks, and hats. Maia jokes that he's always wearing a backpack or a hat and calls him "Backpack Boy."
They take lots of photos: Maia and Alex take lots of photos as a way to be creative when they are traveling. They've made friends from all over the world who share their passion for photography.
You can catch Alex and Maia competing at the Olympics in the short and free dance competition, set to take place on Sunday, February 18th and Monday, February 19th.
Like Just Jared Jr. on FB