Thu, 15 February 2018 at 11:27 am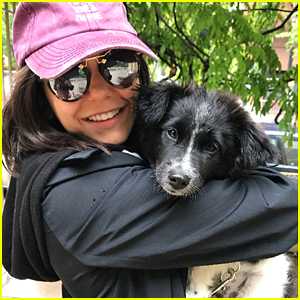 For Nina Dobrev, Valentine's Day had double meaning because it was also her puppy Maverick's 1st birthday!
Or, so she thinks.
"Happy Birthday to my little valentine," Nina shared on her Instagram yesterday, dedicating it to her cute canine. "It's so fitting that I find a love puppy, born on Feb 14th (let's be real, she's a rescue. I have no idea when she was born."
"But the shelter said she was 10 weeks old when I got her, which would have been around the second week of February so I obviously chose FEBRUARY 14TH … duh) You would have done it too."
Nina adds, "Saint Valentine himself brought her to me in a time of need and she has fulfilled, made my life greater and more meaningful than I ever could have imagined. She brings me so much joy, love, and companionship… just like all Valentine's should. Except @mrs.maverick doesn't talk back. Which is better. So I kind of win Valentine's Day."
Yes, Nina, you DO win Valentine's Day.
Nina and Maverick were also spotted out on a (leashless) walk together earlier in the week in Los Angeles.
Like Just Jared Jr. on FB