Sun, 04 March 2018 at 2:30 pm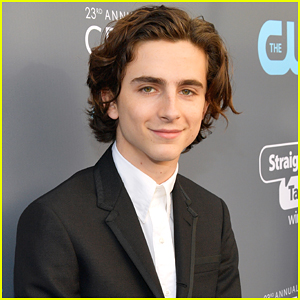 Timothee Chalamet is up for Best Actor in a Leading Role at tonight's 2018 Academy Awards for his role in Call Me By Your Name.
The 22-year-old actor, who went to high school with Ansel Elgort, is the youngest nominee at the awards this year.
Looking at his name, you're probably pronouncing it just like "Timothy" — and while he's accepted that, it's actually NOT how you pronounce it at all.
Speaking with V Magazine, Timothee revealed that a lot of people do call him "Timothy" and he's just fine with it.
"The real pronunciation is Timo-tay, but I can't ask people to call me that," he shared. "It just seems really pretentious."
Timothee added, "My dad is from France, so it's a French spelling, but it seems like too much of an obligation to ask people to call me that."
So, if you ever get lucky enough to meet Timothee, you now know how to pronounce his name.
Make sure to watch the Oscars, hosted by Jimmy Kimmel, at 8pm EST/5pm PST on ABC.
Like Just Jared Jr. on FB