Thu, 15 March 2018 at 6:04 pm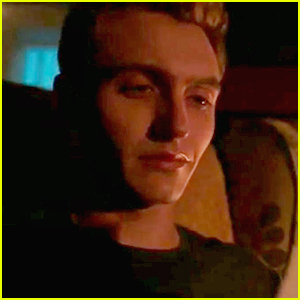 There was a big revelation on Riverdale last night, that most of the fans called anyway — Chic may not be a real Cooper.
And the reveal will happen in the next episode.
According to EW, "Chic's DNA will open up another, even bigger question for the Cooper family" — which sounds far worse than we expected.
Hart Denton chatted with Vulture after the latest episode and agrees with all the fans too — he's creepy.
"He's so creepy. He's so, so creepy!" Hart says. "He's keeping it close to his chest. He's not saying ultra-creepy things [though]. You don't know about this guy."
He adds, "People are so intrigued with figuring out what exactly is wrong with him, and in that, the creepiness just rises to the top. It's prevailing, you can see it! It's his look — not his physical looks, but how he looks with his eyes. There's so much more going on under the hood that people don't necessarily know yet."
So, what's his endgame? Is he purposely trying to destroy the Cooper family? Not entirely.
"It wasn't his intention to wreck this family," Hart adds. "But you look at somebody who was tossed aside and not cared about whatsoever, and then brought to this perfect family who are trying get him to act a certain way."
"A lot of bad stuff has happened because Chic is in the house and people feel bad for him, so they take his side and they help him out, and that starts to implode in the family."
Riverdale airs Wednesdays on The CW.
Like Just Jared Jr. on FB