Wed, 28 March 2018 at 1:37 pm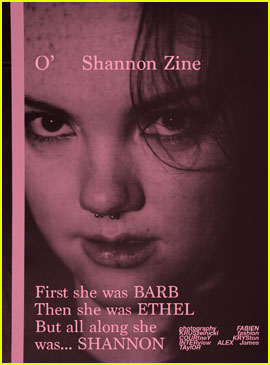 Shannon Purser looks so cool in her own zine inside the new issue of Heroine magazine, available now!
The 20-year-old actress opened up about Stranger Things, mental health and working during high school. Check it:
On when she knew Stranger Things was a hit: "I don't know if there was a particular moment when it first hit me. But it was definitely so interesting after the show had come out and wondering whether anyone would watch it…and then being on Twitter and Instagram and seeing people start to post about it all the time."
On filming the show while she was in high school: "I filmed Stranger Things in my senior year at high school and it was a bit strange. At the time nobody knew what the show was going to be and I loved it. I kind of felt like I had this double life where every couple of days or so I got to be on set and do this amazing thing and then I'd go back to school and I'd have a biology test or something…I think people were intrigued but definitely once the show came out and they realized, 'Oh this is what she's been working on this whole time,' that's when people started to freak out a little bit.
On using her platform to discuss mental health: "I think it's ridiculous there is this significant percentage of people in the world who are dealing with mental health issues who are shamed into silence. People speak freely about other illnesses and issues so why should mental illness be this thing that's shameful or something people can't talk freely about? I think it just does a lot more harm than good and if there's anyway I can help, then that's what I want to do."
Shannon was photographed by Fabien Kruszelnicki and styled by Courtney Kryston.
For more from Shannon, visit TheHeroineMagazine.com.
Like Just Jared Jr. on FB