Mon, 02 April 2018 at 3:04 pm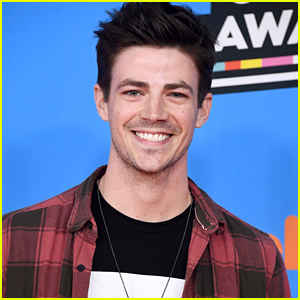 Grant Gustin might not have won a blimp at the Kids' Choice Awards last month, BUT, he did spill a kind of funny story to JJJ on the orange carpet.
When we asked him about the craziest thing that happened on The Flash set, to date, the 28-year-old actor shared a funny, but scary story that happened to Jesse L. Martin (Joe West).
"Where do I start?" Grant laughed when we first asked before he remembered one particular story. "I just flashed to a moment where Jesse Martin's life flashed before everybody's eyes in season two."
He continues, "I want to say [it was] where a bar was supposed to be secured on this little platform and the bar wasn't secured and Jesse did a flip over it onto the ground and that was a little scary."
Grant also gave us a little good news about the rest of the season ahead, especially for WestAllen fans: "We're still going to be together when the season ends!"
That's some good news for your Monday, right? It is for us!
If you missed it, The Flash and nine other CW shows, were just renewed for another season!
Like Just Jared Jr. on FB