Tue, 24 April 2018 at 12:15 pm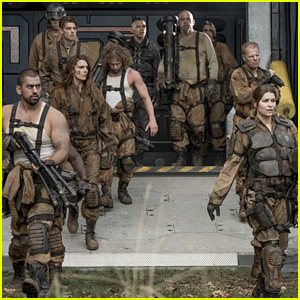 We are so excited that tonight's the night of The 100's season 5 premiere!
In the premiere, Clarke and Madi are seemingly the only two people left on the planet…until the prisoners arrive – but just who are the prisoners?
"Her [Charmaine's] people are a little bit screwed up, because they're all maximum security inmates who have overthrown their jailers on this long duration space mission and come home to a world that they obviously didn't anticipate being post-apocalyptic," showrunner Jason Rothenberg previewed.
He adds that "they thought they were going to come back to the world that they left, albeit a long time later. So when they find this last little valley after having scoured [the globe] orbitally looking for a place to land, they believe that it's theirs, too."
"They believe that they've done their time and made it home, and it's their planet as much as it is anybody's. They want a second chance, and they're going to fight for it."
As for leader Charmaine, she's a villain, but not really a villain.
"I apply that word 'villain' loosely to her," Jason added. "Really, all of the characters that would fit that description, we really try to make them as complex and as nuanced as possible so we understand where they're coming from. She's someone who, as a character, I think some people are going to root for."
The 100 premieres TONIGHT, April 24th @ 9PM ET/PT on The CW.
Like Just Jared Jr. on FB