Sat, 05 May 2018 at 5:30 pm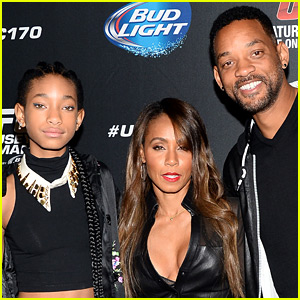 No child ever wants to walk in on their parents getting intimate in the bedroom, but that's something that happened to Willow Smith.
The 17-year-old entertainer learned about the birds and the bees after she walked in on her famous parents Will Smith and Jada Pinkett Smith getting jiggy with it at home.
Jada has a new Facebook Watch talk show premiering soon and she talks about sex with her daughter Willow Smith in one episode.
"I haven't gotten any TMI moments, but I've gotten shocking moments. Willow was giving me a couple of those," Jada told Vulture in an new interview.
"I realized she walked in on Will and I. We were doing the sex show, I was like, 'What was your introduction to sex?'" Jada said with a laugh. "She was like, 'Well, you know, me walking in on you and Dad.' I had no idea!"
"How did that happen?! I was like, 'Lord have mercy, what did you see? Thank God I have some therapy fund put aside for you.' It wasn't funny in the moment," Jada continued. "I had never heard that, and she said that what she got from that was that she walked into a private space. She was like, 'That's private time.' She said she didn't really see anything. But she knew she had just walked in on a very private moment."
Jada also said Will never heard about it and will find out with the rest of the world!
Pictured inside: Willow stepping out with her guitar on Saturday (May 5) in New York City.
Like Just Jared Jr. on FB