Wed, 09 May 2018 at 12:32 pm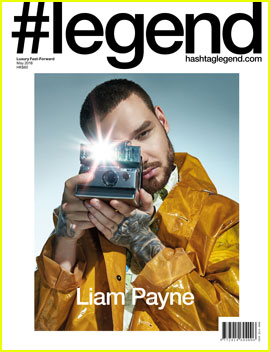 Liam Payne snaps a photo on the cover of #legend magazine's May issues, available now.
The 24-year-old musician opened up about his relationship with One Direction, their reunion plans and how he's grown up. Check it:
On his relationship with his One Direction band mates: "I went away and the person I was in the band, I'm not him now. It was all right to be that person then, but now, I need to be something totally different. Even going to see Louis the other day – it's nice to meet people and have them see how you are now, because you can understand all the things you might have done wrong or the things you might have regretted doing. You can say, 'I'm different now, so whatever that was in the past, we were different people.' We got on well in One Direction, but there were times when we didn't. Certain members fell out with each other sometimes, but it would always come back round. So, I don't ever think that I won't be friends with these people for life. But I think it's important in anything that you can think about everything you would have liked to change about yourself and then grow."
On how he's changed since 1D's hiatus: "Fame made me a little bit nuts and distracted me a lot from the person I was. And it pissed me off in the end, because it was like, 'You could have been this guy, but you chose to do this.' Nobody really knew anything about me. I put on a front that wasn't really me. But now that I've had my time away, you slowly, naturally become the person you were before you started, but with a lot more knowledge. So I feel a lot more myself than I ever did before, rather than being a part of something and having a part to play or treading on eggshells around someone. And when I sat back and thought about all the silly things I might have said and done wrong – not that I have any regrets, because I think whatever happened, happened – I think that now is the time to not be that person. I remember the day we finished, because of the place I was in, I was quite happy that we had a break. I said to the person with me at the time, 'Thank god I don't have to play that person again for a long time.' It was exhausting and I couldn't keep up with myself."
On a potential 1D reunion: "The only way we could get any bigger is throw one massive concert where it's basically all of us versus each other, but we're still in a band. So if we all went like, 'Hang on a minute boys, just going to throw this in' and bang, on comes [Niall Horan's] 'Slow Hands' and we're all just popping along – that would be the most fun sh*t ever."
For more from Liam, visit HashtagLegend.com.
Like Just Jared Jr. on FB