Mon, 14 May 2018 at 3:36 pm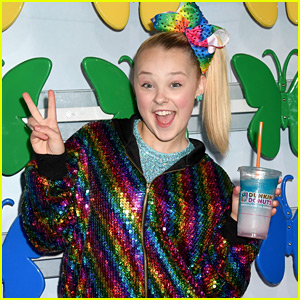 JoJo Siwa matches her rainbow bow to a colorful jacket for the Dunkin Donuts' Cosmic COOLATTA Flavors Celebration held at The Happy Place last week in Los Angeles.
The actress, singer and influencer met up with other digital influencers Johnny and Lauren Orlando, Jayden Bartels, Bryce Xavier, Kaylee Quinn, Rihanna Quinn, Greg Marks, and Matt Sato for the fun event.
Speaking with J-14 in their new issue, JoJo opened up about why you'll never see her with her hair down – it's because it's not her!
"People tell me I should wear it down more," she tells the magazine, which is out on newsstands now. "They'll be like, 'It looks so pretty down!"
But, JoJo just doesn't feel like herself with it down: "I feel more confident with my hair up. I wear my hair up all the time because I don't like it down I just really hate having it on my neck, so that's why I always pull it into a ponytail."
And if you think she lets it down at home, you'd be wrong too.
"That's how I look at home too. I wear bows and my hair up, no matter if I'm performing or not," JoJo adds. "To me bows are more than just another hair accessory. They are a symbol of power and confidence and they make me feel good. I just don't feel right if my hair's not up with a bow. With it down, I look so much different and I don't feel like me."
Like Just Jared Jr. on FB