Mon, 14 May 2018 at 12:48 pm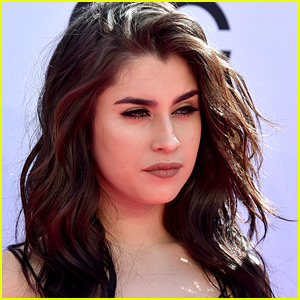 Lauren Jauregui said goodbye to Fifth Harmony this weekend after their final show together in Florida, and picked right up with her solo music.
While visiting with her family, the 21-year-old singer revealed that her grandpa loved it to much, he started dancing to it – which will be what we'll be doing too.
"Showing my family all my music rn and I'm crying cause my grandpa just started dancing to it and told me how proud he was of me and Im just really emotional cause this feels like heaven," Lauren wrote on Twitter.
She added, "Fun fact: I actually only started writing actual songs this year👀 I had only written two songs in my life completely that I thought were ok and I was too scared of failure to try until my world shifted earlier this year."
"My first song was in February. Wrote 2 more after & the rest of the songs you'll hear I've actually written within the past 3 weeks/month. Literally in the studio every day just opening the floodgates of all the shit I never let myself say. So..yeah lol never give up on yourself and DO IT ANYWAY BECAUSE YOU CAN ONLY GET BETTER."
Lauren also revealed that she was really scared when she first started writing. Check out the rest of her tweets below!
Incredibly..& honesty just like SCARED lol I️ was like "nonononooooo I️ don't wanna be bad at thissssss it's literally what I️ love the mossssstttt" and then I️ met my friend Khaled (not the DJ, he's a producer) and he pushed me out of my comfort zone and made me do it anyway https://t.co/eVsOYOikdK

— Lauren Jauregui (@LaurenJauregui) May 14, 2018
Clarification, my album isn't done yet haha I'm still workin and getting in that studio till the last possible second ✨

— Lauren Jauregui (@LaurenJauregui) May 14, 2018
Like Just Jared Jr. on FB