Thu, 17 May 2018 at 4:45 pm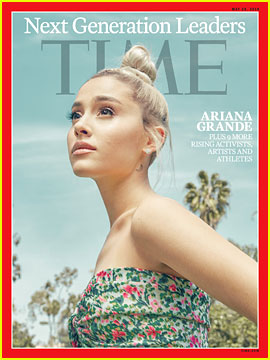 Ariana Grande is reflecting on life after the tragic terrorist attack at her May 2017 concert in Manchester, England.
The "No Tears Left To Cry" crooner and her manager Scooter Braun shared their thoughts in the latest issue of Time magazine. Here's what they had to say:
Scooter on visiting Ariana at her grandmother's home in Boca Raton, Fla., after the bombing, when he asked her to do something he knew at the time was unfair: "I said, 'We need to get a concert and get back out there.' She looked at me like I was insane. She said, 'I can never sing these songs again. I can't put on these outfits. Don't put me in this position.'"
Two days later, Ariana texted him, "Call me. I need to speak to you. … If I don't do something, these people died in vain." That's when they decided to put on the One Love Manchester benefit concert.
Ariana on processing the events: "There are so many people who have suffered such loss and pain. The processing part is going to take forever. I don't want to give [the attack] that much power. Something so negative. It's the absolute worst of humanity. That's why I did my best to react the way I did. The last thing I would ever want is for my fans to see something like that happen and think it won."
"Music is supposed to be the safest thing in the world. I think that's why it's still so heavy on my heart every single day. I wish there was more that I could fix. You think with time it'll become easier to talk about. Or you'll make peace with it. But every day I wait for that peace to come and it's still very painful."
On naming her new album Sweetener: "When you're handed a challenge, instead of sitting there and complaining about it, why not try to make something beautiful?"
For more from Ariana, visit Time.com.
Like Just Jared Jr. on FB