Thu, 24 May 2018 at 3:39 pm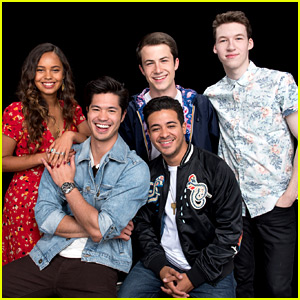 You would think that with a show like 13 Reasons Why, the most graphic, hard to watch parts are the most difficult to film.
However, the cast – Dylan Minnette, Devin Druid, Christian Navarro, Alisha Boe, and Ross Butler – just revealed the actual scene that's the worst – the dance scene!
"You think you know how to dance, until you have to dance without music," Christian shared during their appearance on Build Series earlier this week.
Dylan adds, "There are 200 people in the background, and you have to be yelling as though you're yelling over music, and all the background actors are silent, and so you're just screaming out spoilers…I knew they'd all signed NDAs, but it was a whole thing for me!"
The cast actually has to film it without any music, which is added in post-production.
13 Reasons Why is streaming on Netflix now.
READ MORE:
'13 Reasons Why' Showrunner Stands Behind Graphic Rape Scene in Season 2
'13 Reasons Why' Fan Releases Full Trigger List You Need To Have For Season 2
Like Just Jared Jr. on FB