Tue, 29 May 2018 at 4:38 pm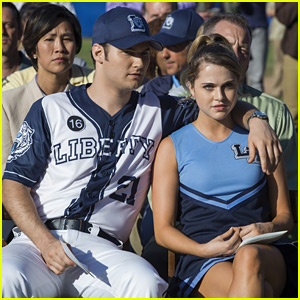 One of the major twists on 13 Reasons Why in season two was the realization that Chloe was pregnant with Bryce's baby.
During the trial, we all saw Chloe change her mind about testifying against Bryce and if the show is renewed for another season, her pregnancy might be one of the storylines fans will see, and get some answers to.
Speaking to ET, Justin Prentice opened up about the pregnancy and how it would affect the two, as well as how his family would play a part in it.
"I think that along with looking Bryce in the eye and being there made it way harder than she thought it was going to be to single him out," Justin shared. "Bryce is very manipulative."
He continues, "As we saw in the flashback when they were kids, he wasn't always this monster of a person, so there are bits of goodness in Bryce… so I think she's kind of confused in that moment."
Justin also opened up on if abortion would be on the table, considering his family.
"I think it very much could be and it would be interesting to see how they handle it because from my point of view, Bryce comes from a powerful family and they have a way of making things disappear, so I don't know. It'd be very interesting to see," Justin says.
Anne Winters also shared an inspiring message for anyone going through what Chloe is going through on the show, too. Read it below:
Like Just Jared Jr. on FB