Mon, 18 June 2018 at 1:38 pm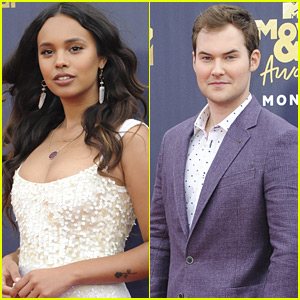 Alisha Boe and Justin Prentice are opening up about their controversial show, 13 Reasons Why, and just why the series chooses to show the difficult things to watch.
Speaking with Variety this weekend, both actors addressed Bryce's trial where he got a slap on the wrist, and the events that led up to the almost school shooting at Liberty High.
"We wanted to show what would … make a person want to do something like that, and I feel like it's happening so much in America that it's absolutely disgusting," Alisha says of the shooting storyline.
She adds, "Not even after like the fifth [school shooting] we haven't implemented change, and it's like enough is enough. 13 Reasons Why is a form of entertainment that likes to shed light on political issues, and we wanted to show something from the first perspective, but I think it was incredibly important because that's what's happening in America, and we need to talk about it."
She and Justin also hit on the importance of Bryce's trial and why you're supposed to feel ticked off about his sentence.
"People were upset when they watched it, but unfortunately that's reality," Alisha says. "What the show doesn't shy away from is telling the truth in a heartbreaking way, and they're supposed to be pissed off."
Justin adds, "Jocks, athletes get off easily, especially if you're a straight white male from a wealthy family."
"Unfortunately that's how reality plays out nowadays, so our show tries to showcase things as realistically as possible, and as much as it sucks that incidence is very realistic."
13 Reasons Why, seasons one and two, are streaming now on Netflix.
Like Just Jared Jr. on FB