Wed, 20 June 2018 at 12:43 pm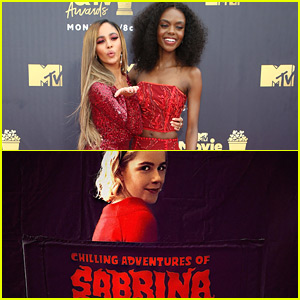 There's been a lot of talk about a potential crossover between Riverdale and it's "spinoff" series, Chilling Adventures of Sabrina.
While some stars of Riverdale would love to see the shows crossover somewhere down the line, Ashleigh Murray is not one of those people.
"I'm going to say no. And I say no because Sabrina is a very different world," Ashleigh recently shared, during the POPSUGAR Playground Scream Queens panel. "And I don't know how, if they're going to play into her magical-ness, and if it's not just her that has that situation."
She adds, "Riverdale is so based in this type of reality that I'm not sure that bringing the two together… is something that you could walk away from. If it would be a one-off thing, then [it might be] fine if they're able to separate the two."
But, Vanessa Morgan, is a bit more open to it.
"I would love it if it does take place in Greendale," she shared. "I was obsessed with Sabrina growing up. I love magic, I love all that stuff. I would love it if we went over."
Like Just Jared Jr. on FB