Wed, 20 June 2018 at 1:03 pm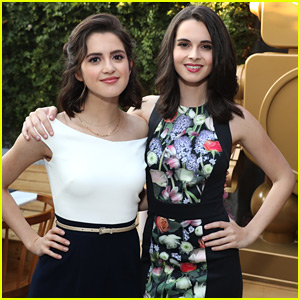 Laura and Vanessa Marano starred in, and produced, their upcoming film adaption of Saving Zoe.
If you don't know, the movie is based on the book of the same name by Alyson Noel, which centers on Echo, who gets a very different picture of her murdered sister Zoe after reading her diary. Zoe's secret world, forces Echo to uncover the truth behind her secret life so that she can start to rebuild her own.
"It was really important for us to paint a picture about how sex trafficking can happen to anyone, because it's not something that's talked about," Vanessa shared in a new interview with Equality Now. "We want to inspire a young audience to make a difference and to do something about these issues."
She also opened up about why they wanted their next project to be focused on teens and young adults.
"We wanted to gear it towards a younger audience, because it seems that it's them who are paying attention," Vanessa added. "They want to hear about the hard subjects…this is a generation right now that is screaming for information, that is screaming for change."
The sisters' mom Ellen, who co-produced the film with them, continued, "People do not want to talk about things like sex trafficking – they are very fearful about it. Denial is very powerful, so one reason to do this film was for us to stop denying what's going on. That's why telling these stories is so important."
Like Just Jared Jr. on FB