Thu, 21 June 2018 at 5:09 pm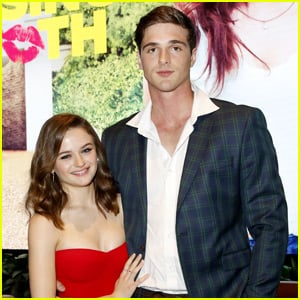 There's a very big, noticeable height difference between on-and-off screen couple Joey King and Jacob Elordi, and yes, they noticed it themselves.
The 18-year-old actress spoke to Seventeen in a new interview about how, while rehearsing one of their kiss scenes for The Kissing Booth, they definitely hit their heads.
"I remember the first time I had to kiss Jacob. That was crazy. I was so nervous," Joey admits before going on with her story. "So, Jacob and I were in our director's office rehearsing the scene. He like, 'Ok, we're going to rehearse today, blah, blah, blah, and we're going to rehearse this scene.' I flip to the page and it's our gazebo kiss, the super passionate, intense one."
She recalls, "I was like, 'Omg! I just met this guy. I have to make out with this person in an office.' He was nervous. I was nervous."
But it's all good, because they worked it out, even if there were a few bumps along the way.
"It all worked out, but it was hilarious because I was in a small square office, trying to figure out how to run up to him and grab his face and kiss him," Joey says. "And you know, he's pretty tall. Figuring that out the first time was a bit challenging. I think we hit heads a couple of times."
The Kissing Booth is streaming now on Netflix.
Like Just Jared Jr. on FB