Wed, 27 June 2018 at 5:45 pm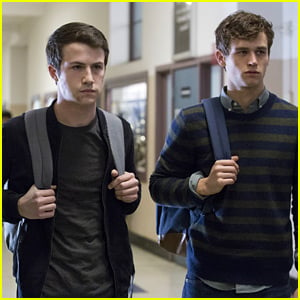 There were a lot of storylines to follow in the newest season of 13 Reasons Why, but one of the most interesting ones was the friendship between Clay and Justin.
Dylan Minnette spoke to ET recently about that and revealed that he hoped that would be continued in the next season.
"What I think is really cool is that the first person you see Clay interact with on the show is Justin back in episode one [of season one]," Dylan reminds us all. "Clay is staring at Hannah's locker and Justin goes up and says, 'What the hell are you doing? You're not innocent, I don't care what she says.'"
He continues, "They hate each other, like they couldn't hate each other more…one of the least expected things would be for Clay and Justin to become family and also, you know, I think that Justin and Clay both saved each other in season two."
Dylan adds that one of the reasons their friendship works is all because "they needed each other."
"Who would of thought that those two people would end up needing each other in order to, I don't know, like, even live," he adds. "So I'm excited to see. I'm sure they'll be, like, roommates still in season three, that'd be cool."
13 Reasons Why is streaming now on Netflix.
Like Just Jared Jr. on FB