Thu, 28 June 2018 at 2:51 pm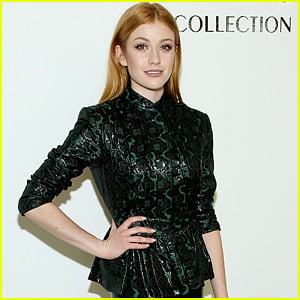 By now, the #SaveShadowhunters campaign has been seen around the world – and Katherine McNamara can vouch for that.
In a new interview with Shumdario News, the 22-year-old actress opened up about the campaign, fans, and what Shadowhunters has truly meant to her.
"The show's been so special because I started it when I was 19 and by the time everything's done airing, I'll be almost 24," Katherine shared. "So that's a really huge, influential chunk of my life and these people have been with me when I went from basically a kid to an adult."
She adds that all that time spent with the cast and crew, and even fans, turns them from just that into family.
"I love these people, they're my family and they always will be. I'm never going to forget this no matter what happens."
Katherine also opened up more about the #SaveShadowhunters campaign and admitted that she hopes it does work out.
"We have no idea what's going to happen with the show. I don't know how it works. I don't really know what the process is, maybe somebody else does. But seeing the tweets, seeing the support that you guys gave us from the get go was the most comforting thing and the most encouraging thing for us," she says.
"[It shows me that] when we come together and we work together, when we set our sights on something, we're unstoppable," Katherine added, boasting of the determination. "That's a really beautiful thing."
Like Just Jared Jr. on FB