Mon, 02 July 2018 at 1:43 pm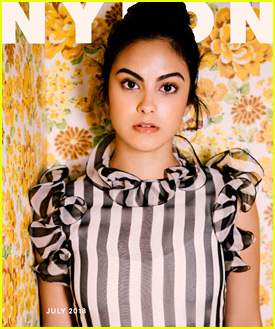 Camila Mendes is opening up in her new cover story for Nylon magazine's July 2018 issue.
The 24-year-old Riverdale actress is talking about just why and how she came to the decision to tackle the bigger issues in the world on her social media.
"It's a huge power that I almost didn't want to take at first. I was like, 'Oh my god. I don't want to have a voice. I don't want people to look up to me,'" Camila says.
Yes, you'll see Camila post certain fashion looks she wore to notable events, but she also talks about her struggles with an eating disorder, policy, and more.
Camila added, "I didn't want to be a role model because I didn't feel like one. But, instead of trying to be like, 'You guys should all respect everything that I say and see me as this perfect thing,' it was more like, no, I can be a voice, because I'm going through what they go through, probably. Since I'm a real person, I'm willing to talk about it."
Since opening up, Camila notes that she's gotten a ton of positive feedback from her fanbase.
"I think all the encouragement from fans, and how much I see that they're going through the same thing, and how much I feel like I actually have an opportunity here to inspire people and prevent people from going down that path, has shown me I actually could make that difference in someone's life…"
Like Just Jared Jr. on FB