Tue, 03 July 2018 at 12:53 pm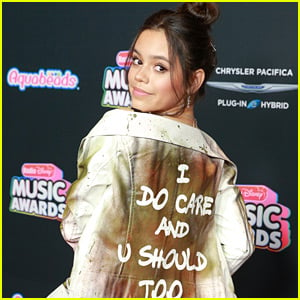 Late last month, Jenna Ortega made a big statement with her jacket at the 2018 Radio Disney Music Awards.
In an interview with Yahoo, the 15-year-old actress opened up about her statement in response to First Lady First Lady Melania Trump's jacket that read "I Really Don't Care".
"I knew exactly what my statement was going to be, how I wanted it," Jenna shared. "I worked with my stylist [Enrique Melendez]. I told him, 'I want to get this jacket made with this message on the back'."
It was a big fashion moment for Jenna, and the response to it took her by surprise.
"I'm the kind of person who stands up for what they believe in," she says. "In three years I'm going to be able to vote…So I'm super excited for that. I still have so much more to learn, and I know that. I'm kind of picking up things as I go along."
"But this isn't a political issue, this is just having kindness in your heart. I really wanted my fans to get that and to understand that, because it's something that everybody should care about, no matter what side you're on politically."
Jenna adds that her jacket response wasn't about being political at all: "I really want people to know that I did it, not even about being political, just about being kind and respectful towards one another. I think that's something that our country's lacking at the moment."
"I wanted to get my word out there and let people know what I thought. It wasn't right. It isn't OK. It's insensitive."
Like Just Jared Jr. on FB