Wed, 04 July 2018 at 10:30 pm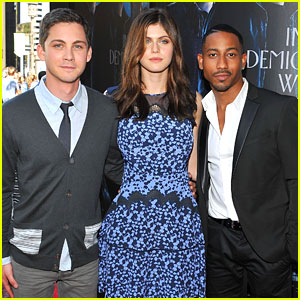 Would you watch a Percy Jackson television show? Some fans are hoping for just that!
While the series was adapted into two movies, starring Logan Lerman, Alexandra Daddario, and Brandon T. Jackson, many fans are upset that the book series didn't get what it deserved, and that it should be remade into a TV series.
"Ever think about how Percy Jackson had the potential of Harry Potter as a franchise and have the opportunity to grow up with the character but instead we were given two sh—y movies," one fan wrote on Twitter, adding, "also to rub salt in the wound : the finishing of pjo could've easily lead into heroes of Olympus and we could've easily seen leo jason piper frank and hazel on our screens but guess what? we were robbed. anyways. this is proof pjo is not past its prime and if jk can still ride the harry potter train we want a GOOD REBOOT @netflix GIVE US A TV SHOW YOU COWARDS."
Another fan suggested maybe an animated version. "If it was animated… and done accurate to the books! The movies did us all so dirty, please fix that mistake."
Percy Jackson has also been made into musical and will be going on tour across the US next year. Head to LightningThiefMusical.com for more info!
Tell JJJ: Do you think Netflix should make a Percy Jackson TV series?
Like Just Jared Jr. on FB