Thu, 05 July 2018 at 10:33 am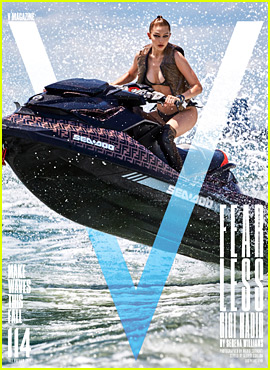 How stunning does Gigi Hadid look in this fun, summer-themed cover shoot for V magazine's issue.
The 23-year-old model chatted with tennis star Serena Williams for the interview. Here's what she shared…
On being competitive: "It's interesting because I think most of my competitive nature comes from my mental competition with myself. I'm competitive with my personal best; I won't stop if I know I can do better. In volleyball I was on a team, and I took that responsibility very seriously, just as I feel about my relationship with a horse I compete on. I want to be the best, but it's about knowing I worked hard to perfect something more than it will ever be about beating someone else. That goes for volleyball, horseback riding, and modeling."
On the impact of her work: "I'm really proud of the dozens of schools that will be built in Ghana, Guatemala, and Laos through my Stuart Weitzman collaborations with Pencils of Promise. It makes me so happy to think that the schools will hopefully give many generations of kids the opportunity to get the education they deserve. I want to keep connecting with organizations surrounding world issues I'm passionate about, and to use my platform and time to give back however I can. Besides any tangible charity work, I hope to always spread the message of compassion, for yourself and others. Learning from others, challenging myself to perfect new trades, getting informed about what I'm passionate about, and helping others have brought me so much."
On having a successful sister, Bella Hadid, in the same industry: "I absolutely love it. It's very rare to have what Bella and I have in fashion, what you and Venus have in tennis. I feel very lucky to be able to have a piece of home in my work environment. We are each other's biggest fans. It has been a huge joy of my life to watch my little sister flourish, and to help when I can!"
For more from Gigi, visit VMagazine.com.
Like Just Jared Jr. on FB