Thu, 05 July 2018 at 4:31 pm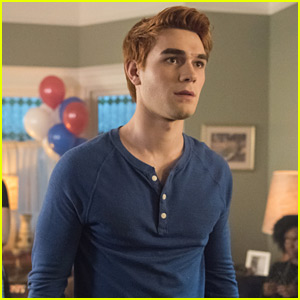 When season three of Riverdale starts, most likely, we'll be seeing Archie behind bars, because he was framed for and arrested for the murder of Cassidy Bullock.
"I want him to get a whole lotta tats," KJ Apa shared about a new interview with TVLine about Archie's jail term. "I want him to join a gang. I want it all."
He and the cast also chimed in on which other character would be coming to visit him, and maybe, bust him out.
"I'd love to say Fred but I think… I dunno why but I think Jughead," KJ added. "I think if I was a father I'd definitely wanna be there for my son, but I've got a feeling Jughead's gonna wanna help him while he's in there."
"I think Jughead's gonna try to lead the charge to break him out of prison," Cole Sprouse shared. "Break him out of prison. I've got a loud ass motorcycle. Throw a stick of dynamite at the wall. You know how in I, Smalls throws grenades at bunny rabbits? That's Jughead Season 3."
We're up for that!
But what about the others? Who else is coming to help him out? Reggie and Toni are on board.
"Reggie's a ride or die guy," Charles Melton says. "He's always had Archie's back. There's that frenemy thing, like, where they're rivals in the school — but outside of school it's a different story. In the real world he's definitely got Archie's back and he'll definitely visit."
Vanessa Morgan, who plays Toni Topaz, says she's sure Toni will help out: "I'm sure Toni's spent some time in juvi, so I'm sure she'll make an appearance and try to help him out."
Earlier, showrunner Roberto Aguirre-Sacasa opened up about the possible theme for the new season
"There might be a courtroom thriller element to [Season 3]," he noted. "There might also be sort of a prison noir element to it as well. We always kind of have crime and noir elements."
He continued, "The prospect of Archie on trial is pretty delicious. And the prospect of Archie in a juvenile detention center is pretty delicious. So we'll see what's ahead."
Riverdale season 3 will premiere in October on The CW.
Like Just Jared Jr. on FB