Fri, 06 July 2018 at 1:43 pm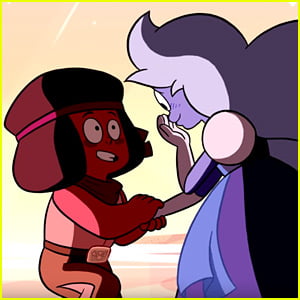 Steven Universe just made a little television history that will put a huge smile on your face.
In this week's episode during the Heart of the Crystal Gems story arc, Ruby popped the question to Sapphire!
Creator Rebecca Sugar told fans on twitter that, "The all new Steven Universe episodes this week were years in the making, please, PLEASE do not miss these."
In the mini-story of the series, Rose Quartz was revealed to be the still-alive Pink Diamond, who's been leading an invasion plot against Earth. Ruby and Sapphire had merged to form the warrior Garnet, but they split after this reveal. Ruby goes off to be alone and pursue a Western-style life.
Though she seems happy to Steven, Ruby reveals she can't be truly happy without Sapphire. So she rides back and asks Sapphire to marry her. "This way we can be together even when we're apart," Ruby says.
Rebecca spoke to EW later about the groundbreaking moment, "We absolutely must tell LGBTQ+ children that they belong in this world and they deserve to be loved."
She continues, "We cannot wait until a child grows up to tell them they deserve to exist and that their story matters. I am overwhelmed with emotion thinking of the years of tireless work from all of us on the crew leading up to this moment."
Watch the moment below!
Like Just Jared Jr. on FB