Tue, 10 July 2018 at 9:45 am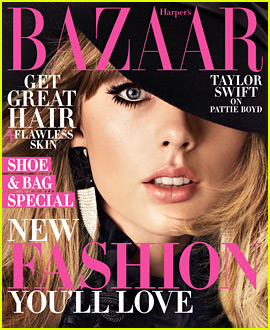 Taylor Swift is looking amazing on the cover of Harper's Bazaar's August 2018 issue, on newsstands July 24.
For the shoot, the 28-year-old superstar channeled English model Pattie Boyd , and also posed for a photo with her! Here's what Taylor had to share…
On finding moments of inspiration: "There are definitely moments when it's like this cloud of an idea comes and just lands in front of your face, and you reach up and grab it. A lot of songwriting is things you learn, structure, and cultivating that skill, and knowing how to craft a song. But there are mystical, magical moments, inexplicable moments when an idea that is fully formed just pops into your head. And that's the purest part of my job. It can get complicated on every other level, but the songwriting is still the same uncomplicated process it was when I was 12 years old writing songs in my room."
On muses: "I don't know what it is that makes some people really creatively inspiring. There have been people I've spent a lot of time with who I just couldn't write about… It's just that some people come into your life and they have this effect on you."
On how Pattie inspires her future self: "I would love to look back on my life with the same clarity, wisdom, and peace that you [Pattie] seem to have."
For more from Taylor, visit HarpersBazaar.com. The issue is on newsstands July 24!
FYI: Taylor is wearing Givenchy on the cover.
Like Just Jared Jr. on FB