Wed, 11 July 2018 at 9:48 am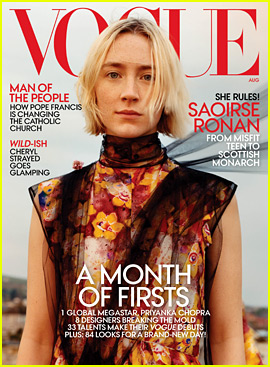 Saoirse Ronan is on the cover of Vogue's August 2018 issue!
The 24-year-old actress spoke about watching herself on screen, the work she does, and more. Here's what she shared…
On watching herself on screen: "I just get so anxious whenever I watch anything that I'm in … I'm fine with the way I look now, but I wouldn't necessarily be looking at photographs of myself all day. I don't want to become too consumed by the image of myself."
On being in front of the camera: "It's very intimate. There are certain moments where it feels like it's just you and the lens. It's something that has been a very stable, consistent thing in my life. The camera has been the thing that has stuck around the longest."
On gossip: "If you're not aware of how often you're in a newspaper, then it's like it's not really happening."
FYI: Saoirse is wearing Prada on the cover.
For more from Saoirse, visit Vogue.com.
Like Just Jared Jr. on FB