Mon, 16 July 2018 at 9:02 pm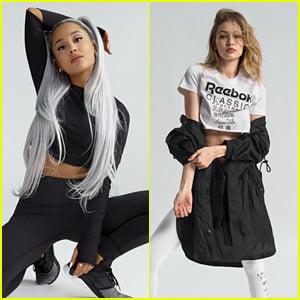 Ariana Grande and Gigi Hadid are starring in a new fashion campaign for Reebok and there is a great message being put out into the world.
The campaign's rally cry is "Be More Human," Which encourages people to be the best possible version of themselves physically, mentally and socially.
Reebok has created ten different limited-edition shirts, each featuring an inspiration message from one of the women featured in the campaign. 100% of the purchase price from the sale of each shirt will be split equally and go to the Movemeant Foundation and The Women's Strength Coalition.
"Reebok has a long history of empowering women and supporting those who empower others," said Melanie Boulden, Reebok Vice President of Marketing. "We did this back in the 1980's, when the brand helped usher in a new fitness movement, led by women, that changed culture and made it ok for women to sweat and have muscles. We are still at it today, developing innovative product for women, by women, and encouraging females to experience the physical, mental and social transformation that happens when we move – the essence of our Be More Human philosophy."
Like Just Jared Jr. on FB