Fri, 20 July 2018 at 10:29 am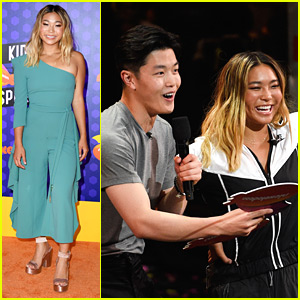 Chloe Kim steps out in a cool blue jumpsuit for 2018 Nickelodeon Kids' Choice Sports Awards held at Barker Hangar on Thursday (July 19) in Santa Monica, Calif.
The 18-year-old Olympic snowboarding champ picked up the Don't Try This At Home blimp, which honors athletes who "risk their lives and limbs every day to accomplish the impossible."
During the show, Chloe also participated in a fun Battle Carts Royale challenge which tested the throwing accuracy of Winter Olympics medalists with her, Shaun White, Maia Shibutani and Alex Shibutani.
The two teams raced against each other in shopping carts, tossing out t-shirts to the audience in a race to hit a final target and trigger the dunking of their Nickelodeon Knight Squad teammate into a tank holding 1500 gallons of slime.
Liza Koshy was also spotted at the annual event, hosting a fun version of Double Dare with the athletes there. So cool!
FYI: Chloe is wearing Pedro García heels.
Click inside NOW for the FULL WINNERS LIST!
Favorite Male Athlete
Cristiano Ronaldo (La Liga, Real Madrid C.F., Portugal National Football team)
James Harden (NBA, Houston Rockets)
José Altuve (MLB, Houston Astros)
LeBron James (NBA, Cleveland Cavaliers) – WINNER
Sidney Crosby (NHL, Pittsburgh Penguins)
Tom Brady (NFL, New England Patriots)
Favorite Female Athlete
Alex Morgan (NWSL, Orlando Pride, US Women's National Team) – WINNER
Chloe Kim (Professional Snowboarder, US Team)
Jamie Anderson (Professional Snowboarder, US Team)
Katie Ledecky (Competitive Swimmer, US Team)
Mikaela Shiffrin (Skiing, US Ski Team)
Sloane Stephens (WTA)
Venus Williams (WTA)
King of Swag
Adam Rippon (Professional Figure Skater, US Team)
Chris Paul (NBA, Houston Rockets)
Neymar Jr. (France Ligue 1, Brazil National Football Team, Paris Saint-Germain)
Odell Beckham Jr. (NFL, New York Giants) – WINNER
P.K. Subban (NHL, Nashville Predators)
Russell Westbrook (NBA, Oklahoma City Thunder)
Travis Kelce (NFL, Kansas City Chiefs)
Queen of Swag
Brighton Zeuner (Professional Skateboarder)
Ibtihaj Muhammad (Fencing, US Team)
Jamie Anderson (Professional Snowboarder)
Michelle Wie (LPGA)
Serena Williams (WTA) – WINNER
Skylar Diggins-Smith (WNBA, Dallas Wings)
Sydney Leroux (NWSL, Orlando Pride)
Best Cannon
Aaron Rodgers (NFL, Green Bay Packers)
Clayton Kershaw (MLB, Los Angeles Dodgers)
Corey Kluber (MLB, Cleveland Indians)
Dak Prescott (NFL, Dallas Cowboys)
Justin Verlander (MLB, Houston Astros)
Russell Wilson (NFL, Seattle Seahawks) – WINNER
Biggest Powerhouse
Anthony Davis (NBA, New Orleans Pelicans)
Draymond Green (NBA, Golden State Warriors)
Giannis Antetokounmpo (NBA, Milwaukee Bucks)
Joel Embiid (NBA, Philadelphia 76ers)
Rob Gronkowski (NFL, New England Patriots) – WINNER
Rose Namajunas (MMA)
Von Miller (NFL, Denver Broncos)
Clutch Player of the Year
Carli Lloyd (NWSL, Sky Blue FC, US Women's National Team)
Chris Paul (NBA, Houston Rockets)
Katie Ledecky (Competitive Swimmer, US Team)
Kevin Durant (NBA, Golden State Warriors) – WINNER
Lionel Messi (La Liga, FC Barcelona, Argentina National Football Team)
Nick Foles (NFL, Philadelphia Eagles)
Heavy Hitter
Aaron Judge (MLB, New York Yankees)
Alex Ovechkin (NHL, Washington Capitals)
Bryce Harper (MLB, Washington Nationals)
Dustin Johnson (Golf)
Giancarlo Stanton (MLB, New York Yankees)
Jocelyne Lamoureux-Davidson (U.S. Women's National Ice Hockey Team)
Venus Williams (WTA) – WINNER
Don't Try This At Home
Chloe Kim (Professional Snowboarder, US Team) – WINNER
Colton Walker (BMX)
Ibtihaj Muhammad (Fencing, US Team)
Lakey Peterson (World Surf League)
Mirai Nagasu (Professional Figure Skaters, US Team)
Nyjah Huston (Professional Skateboarder)
Shaun White (Professional Snowboarder, US Team)
Favorite Newcomer
Aaron Judge (MLB, New York Yankees)
Allisha Gray (WNBA, Dallas Wings) – WINNER
Ben Simmons (NBA, Philadelphia 76ers)
Deshaun Watson (NFL, Houston Texans)
Donovan Mitchell (NBA, Utah Jazz)
Lonzo Ball (NBA, Los Angeles Lakers)
Red Gerard (Professional Snowboarder, US Team)
Hands of Gold
Antonio Brown (NFL, Pittsburgh Steelers) – WINNER
Danny Amendola (NFL, Miami Dolphins)
Julio Jones (NFL, Atlanta Falcons)
Maddie Rooney (U.S. Women's National Ice Hockey Team)
Nolan Arenado (MLB, Colorado Rockies)
Pekka Rinne (NHL, Nashville Predators)
Need for Speed
Chris Mazdzer (Luge, US Team)
Jimmie Johnson (NASCAR)
John-Henry Krueger (Speed Skating, US Team)
Kyle Busch (NASCAR)
Lindsey Vonn (Skiing, US Team) – WINNER
Mikaela Shiffrin (Skiing, US Team)
Sickest Move
Alex Morgan (NWSL, Orlando Pride, US Women's National Team)
Alex Ovechkin (NHL, Washington Capitals)
Giannis Antetokounmpo (NBA, Milwaukee Bucks)
Le'Veon Bell (NFL, Pittsburgh Steelers)
Russell Westbrook (NBA, Oklahoma City Thunder)
Stephen Curry (NBA, Golden State Warriors) – WINNER
Zlatan Ibrahimović (MLS, LA Galaxy)
Nothing But Net
Alex Morgan (NWSL, Orlando Pride, US Women's National Team)
Chris Paul (NBA, Houston Rockets) – WINNER
James Harden (NBA, Houston Rockets)
J.J. Redick (NBA Philadelphia 76ers)
Klay Thompson (NBA, Golden State Warriors)
Kyle Korver (NBA, Cleveland Cavaliers)
Patrick Kane (NHL, Chicago Blackhawks)
Patrik Laine (NHL, Winnipeg Jets)
Winter Wonders
Adam Rippon (Professional Figure Skater, US Team)
Alex and Maia Shibutani (Professional Figure Skaters, US Team)
Chloe Kim (Professional Snowboarder, US Team)
Jamie Anderson (Professional Snowboarder, US Team)
Mikaela Shiffrin (Skiing, US Team)
Red Gerard (Professional Snowboarder, US Team)
Shaun White (Professional Snowboarder, US Team) – WINNER
Like Just Jared Jr. on FB