Sat, 28 July 2018 at 1:42 pm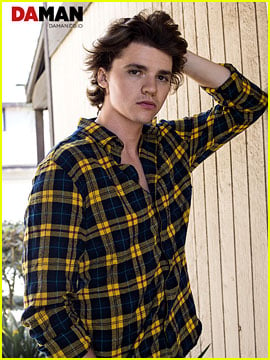 Joel Courtney strikes a pose for his brand-new photo shoot featured in Da Man magazine's latest issue.
Here's what the Kissing Booth and Super 8 actor had to share with the mag:
On what makes The Kissing Booth stand out from other rom-coms set in high school: "The Kissing Booth stands apart from the crowd. I can't tell you how many people I've talked to who said 'Elle was going to break up with Noah and realize Lee is the one for her.' And I told them all: 'Well, if that's what you think maybe you should go watch the movie and be surprised.' There is warmth and hope throughout the movie. This movie has optimism for love and kindness that I don't feel most movies have anymore."
On what first drew him to The Kissing Booth: "My character. Lee is similar to myself. If you stripped away all of my inhibitions, filters and worries in the world, I would be Lee. And of course the friendship between Lee and Elle. This character was so perfect for me that a friend told me if I didn't book it I should quit acting. Thank God I booked it!"
On his fondest memory from working on the movie: "The harmony on set between Joey King, Jacob Elordi and myself. We were inseparable. The chemistry shines through in one of my favorite scenes: When we have our big falling out and all go our separate ways. That sequence is so heartbreaking to the fans because it was heartbreaking to us. And at the end of that day I thing we had a big group hug and got some thick shakes."
For more from Joel, visit DaMan.co.id.
10+ pictures inside of Joel Courtney's shoot…
Like Just Jared Jr. on FB