Wed, 01 August 2018 at 11:35 am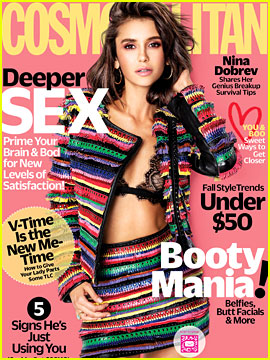 Nina Dobrev and Vanessa Hudgens are spilling all in the latest issue of Cosmopolitan, available on August 7.
Here's what the Dog Days stars had to share with the outlet during their September cover shoot:
Vanessa on her favorite day with her BFFs: "My favorite day with my girlfriends is having everyone over to my house, lying by the pool, drinking rosé, listening to music, and dancing."
Nina on being careful on what she shares on social media: "I don't typically post photos with significant others, which is funny, because when I do post a photo with a guy, the media will pick it up and assume I'm dating him. It makes me laugh because, in reality, if he is on my Instagram, that means I'm not dating him!"
Nina and Vanessa on if they've had any #MeToo encounters:
Nina: "Like any woman in every industry, yes. Comments have been made. People have said things that are inappropriate. I've been able to handle myself and speak up for the most part. But I have seen a lot."
Vanessa: "I have been very fortunate not to have had any direct run-ins, but I've seen it happen. I'm grateful that we're living in an age when women are finally heard."
Nina on her daredevil side: "I am attracted to doing scary things. I might have a slight addiction to firsts. When you've never done something before, you don't know what to expect. It's the fear of the unknown. It keeps you on your toes."
For more from Vanessa and Nina, visit Cosmopolitan.com.
Like Just Jared Jr. on FB